Armasight NYX-14 GEN 3 Ghost Night Vision Monocular Review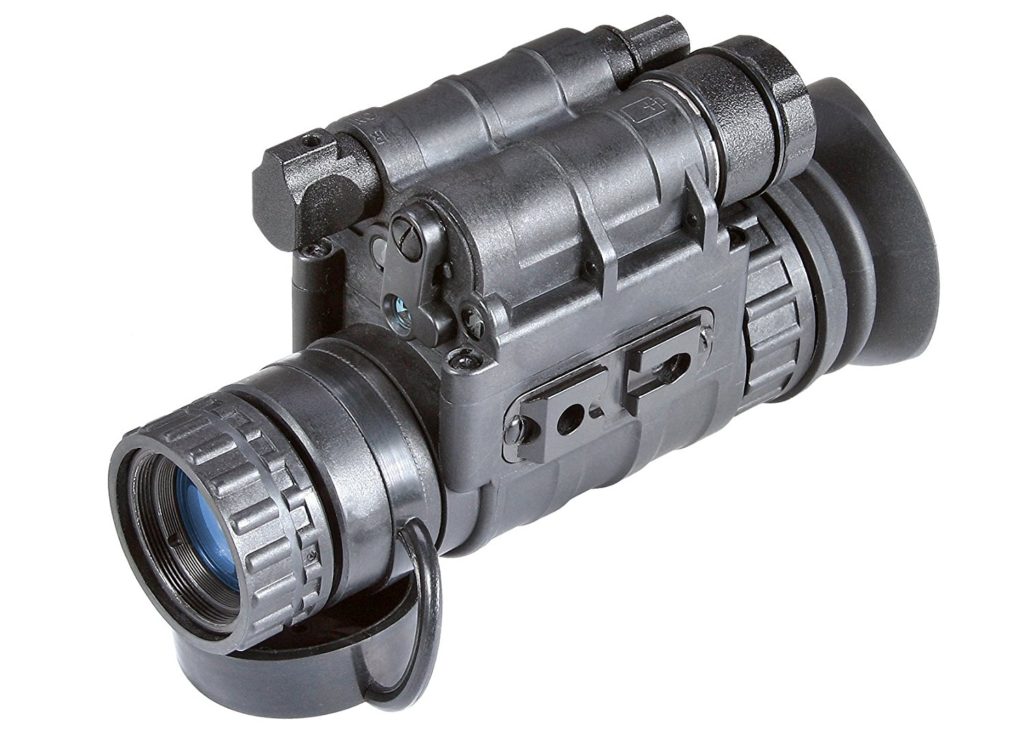 Looking for a great night vision monocular? You have come the right page. We spent pretty much all of last year testing a variety of night vision devices, and have narrowed down to the top 12 and created this night vision goggle comparison. In this Armasight NYX-14 GEN 3 Ghost MG Night Vision Monocular review we are going to show you why this night vision monocular made our exclusive list.
Right away I fell in love with the Armasight Nyx14 Gen 3 Ghost night vision monocular (Click here to check price on Amazon ). It is one of the most functional night vision monoculars on the market. The Nyx14 is extremely durable and super compact. One of the things we noticed right away with this night vision monocular is how lightweight it was, it was so light that using it feels like it's a part of you. We knew that this would be a quality product, as we have come to expect this type of quality from this brand after testing the Armasight Vega and the Armasight Nyx-7.
This generation 3 night vision monocular is a vert effective piece of night vision technology that is a good match for both the amateur and the professional. It's easy to see why this is the number one choice for occasional hunters up to trained law enforcement professionals. We knew this was one of the best night vision monoculars because this is one of the few models that has manual gain control. This means you have the added functionality of being able to control the gain by hand instead of relying on automatic gain control giving you more control over clarity. The Armasight Nyx14 generation 3 Ghost also features an infrared illuminator, we found this super helpful when we tested this in pitch black conditions when no moonlight was visible and were still able to see pretty well.

Armasight NYX14 GEN 3 Ghost MG Night Vision Monocular Features
Compact, rugged design
Water and Fog-Resistant / Waterproof (optional)
Weapon mountable
Head or helmet mountable for hands-free usage
Manual brightness control
Bright light cut-off
Ergonomic, simple, easy to operate controls
Utilizes single CR123A lithium or AA battery
Adaptable for use with cameras
Built-in Infrared illuminator and flood lens
Limited two-year warranty
Armasight NYX14 GEN 3 Ghost Night Vision Monocular Specs
IIT Generation Gen 3 Alpha – High Performance
Resolution 64-72 lp/mm
Magnification 1x standard; 3x, 5x, 8x optional
Lens System F1.2; 27 mm
FOV 40°
Range of Focus 0.25 to infinity
Diopter Adjustment -6 to +2
Controls Direct
Bright Light Cut-off Yes
Automatic Shut-off System Yes
Infrared Illuminator Yes (With Build-in Flood Lens)
IR Indicator Yes (in FOV)
Low Battery Indicator Yes (in FOV)
Power Supply 1x CR123A 3V Lithium
Battery Life up to 60
Environmental Rating Water and Fog-Resistant
Operating Temperature -40 to +50 °C
Dimensions 140 x 49 x 69 / 5.5 x 1.9 x 2.7 (LxWxH; mm/in)
Weight 0.4 kg / 0.88 lbs
Warranty 2 Years
The Armasight NYX14 Gen 3 Ghost Night Vision Monocular In Action
Conclusion
Testing the Armasight Nyx-14 Gen 3 Ghost night vision monocular was a blast to try. Out of all the night vision devices we tested, the manual gain feature put this one way ahead of the rest. While the manual gain can be a little tricky for newbies to learn, once you do, you can get some high definition picture fairly easy. If you found this Armasight NYX-14 GEN 3 Ghost MG Night Vision Monocular review helpful please take a moment to share it with your friends on social media.